Getting a master's degree has been quite in fashion and demand  due to a marginal increase in percentage in the job seeker market.  Gone are the days when a bachelor degree was enough to get a  high paid job in the corporate world. 
With mammoth technological advancements in the last two  decades, the competition got fiercer and mightier. Thus, upskilling  and getting into higher studies is one of the ways to land a high paying  corporate job in the field of study. 
C3S Business School offers a portfolio of postgraduate degrees,  here's a rundown: 
Master in Strategic Management and Leadership 
Master in Logistics and Supply Chain Management 
Master of Business Administration (MBA) 
MA in Tourism and Hospitality Management
These degrees prepare students for a wide range of future  occupations, including not only management, but a large range of  specializations as well. Having previous qualification in management  is also not a mandate; some of our programs are available to  graduates from a variety of disciplines. 
Following are just a few of the many roles you can undertake after  completing one of our postgraduate management degrees.
Becoming a "manager" is a broad blanket phrase that doesn't really  touch on how much one manager's position might differ from another.  It's the most evident, but also the most diversified choice for  management graduates. 
The benefit of postgraduate management education is that it permits  you to specialize in a certain field. Your undergraduate degree  provided a good platform on which you might have grown, but it did  not necessarily provide you with all of the knowledge and skills  required to step into a specialized career right away.  
While taking up any of these degree programs, you can grab a  chance to redirect your career into niche such as: 
Marketing: Includes directing the creation, production, and  acquisition of marketing materials for promotion and brand building.
Finance: Managing an organization's financial activities and  transactions, as well as supporting them in achieving their financial  objectives, raising money, managing mergers and acquisitions, and  evaluating worldwide financial activity. 
Human Resources: Managing employee-employer relationships,  resolving conflicts, disciplining employees, and tracking absences. HR  Business Partners work at the highest levels of corporations and  conglomerates to design sophisticated HR strategies. 
Inventory control: Includes overseeing the creation and launch of  new goods, as well as ensuring that many aspects of a company work  together to ensure the products' success. 
Operations: Managing an organization's overall daily operations,  including buying, inventory management, departmental  collaboration, and policy development. 
Audit function: This entails overseeing and enabling internal audits,  ensuring that they are conducted thoroughly and in compliance with  best practices and professional standards. 
Below is the Annual Average Salary statistics for department wise  designations, for Spain, in the year 2021. (Source: PayScale)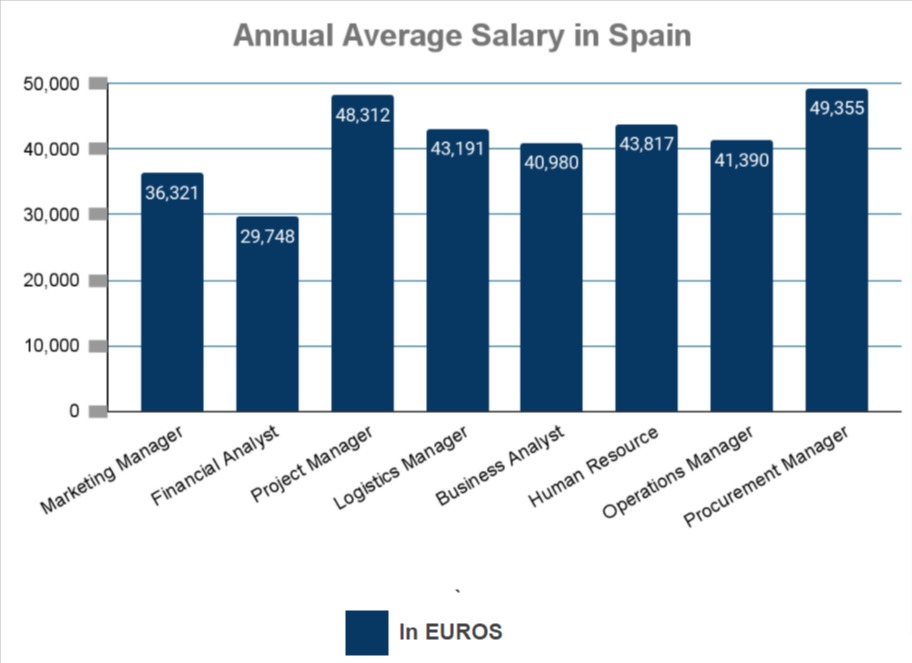 These are just a few examples of the types of specialized managerial  roles that you can get into after completing postgraduate  management studies. 
It's also possible that you already have extensive knowledge in a  sector and are enrolling in a postgraduate program to gain the  managerial skills you'll need to enhance it.  
You may do this in a number of our management courses programs  since they don't require you to have studied management previously.
On the other hand, there are some to whom companies turn to when  they wish to strengthen their internal operations. Business consultants  are external experts that help businesses solve problems, either on a  local scale by working with individuals or on a bigger scale by  examining the entire management structure of a company. 
This is an area of work that often demands a great deal of personal  experience in various managerial jobs, since your prior experiences  will be able to inform any ideas, you provide. 
Management consultancy, on the other hand, may allow people  who are up for the challenge to work with a wide variety of  organizations, each with its own set of unique and intriguing  challenges.
Of course, you may determine that you are the only one worth  controlling! A career in management doesn't have to begin with  working for a large corporation; the abilities you gain during your  education might easily be applied to starting and building your own  firm. 
Many of our alumni have gone on to pursue their ideas outside of the  corporate world. And, as your firm grows, there's no reason why you  won't ultimately become a manager. This demonstrates the versatility 
of management studies — it can lead you anyplace you choose to  go. 
Barcelona – the ultimate startup hub 
The number of new Information technology firms and initiatives  formed in Catalonia surged by 21% in just one year – 2019. 
In Catalonia, there are around 25,000 researchers and 800 research  group working standalone on scientific research and innovation based projects. 
Barcelona Activa, a business incubator that also provides capital, was  founded to assist all types of entrepreneurs. 
In Catalonia, there are already over 1,700 startups, and the number  continues to rise. 
That is why spaces like Barcelona Tech City (in the Pier 01 Building),  one of the four Barcelona Activa sites, or the 22@ neighborhood have  sprung up to house the city's most important entrepreneurs. 
As you can see, it's difficult to obtain a clear picture of what kind of  profession you may have if you study management at the  postgraduate level, but that's just because the options are unlimited!  Whatever path you choose, C3S Business School has a program for  you.