Are you considering on commencing a dual degree, a pathway program, or a top  up? Students have so many study alternatives nowadays, it can be baffling to  decrypt some of the higher education lingo. These three terms having got students  confused and wonder since ages, and our sales team diligently explains the  meaning of these terms to all prospective students, with utter patience and  compassion. But I think it is time, we demystify these terms in the most layman way  so as to make it accessible to anybody and everybody who inquires. 
Dual degrees – a concept which encompasses a perspective, where a program  offered by an institution is recognized and accepted by a university and they reward  their degree to the students studying with that particular institution. For instance,  UCAM, University, Spain offers their own degree to the students studying Master  degree programs of OTHM, UK at C3S Business School, as they recognize that the  program curriculum of OTHM, UK shares a similar structure as that of UCAM's own  programs. Thus, students end up getting TWO degrees – Dual degrees for studying  the Master's program course. 
Pathway Programs – An institution or a university recognizes some of the credits  acquired by the students in their previously studied programs – diploma or degree,  and they offer admission for the subsequent level program based on those credits  gained by a student.  
The Bachelors program offered by C3S Business School in association with OTHM,  UK provides opportunities for students to choose to pursue their final year from a  list of close to 40 British Universities. BA (Hons.) in Business Management & BA(Hons) in Tourism & Hospitality Management are two Bachelor programs which  deemed as Pathway Programs. In this program, Level 4 (First year) and Level 5  (Second year) is offered at the Barcelona campus of C3S Business School, and for  the Bachelor's Top-Up student can choose to study in any of the UK universities  cited below. This is one of the major USPs of these Bachelor programs, as students  get to study in the UK for a year and get awarded the UK degree, while saving the  cost of tuition fees and cost of living for first two years by studying at the Barcelona,  Spain campus.
• University of Sunderland
• Wrexham Glyndwr University
• University of Wolverhampton
• University of Lancashire
• University of West of Scotland
• University of Bedfordshire
• University of Portsmouth
• University of Northampton
• University of New England – Australia
• University of Lincoln
• University of Law
• University of Huddersfield
• University of Gloucestershire
• University of East London
• University of Derby
• University of Cumbria
• University of Chichester
• University of Bolton
• The Open University
• Staffordshire University
• Northumbria University
• Middlesex University
• London South Bank University
• Liverpool John Moores University
• Leeds Beckett University
• Glasgow Caledonian University
• De Montfort University
• Coventry University
• Concordia University Chicago
• Cardiff Metropolitan University
• Buckinghamshire New University
• BPP University
• Birmingham City University
• Bath Spa University
• Bangor University
• Arden University
• Anglia Ruskin University
Top Up – This concept is designed for only those students who hold the UK diploma  certificates (Level 4, 5 & 7). As the name itself suggests, when the students want to  top up their diplomas to degree, they can opt for Top Up. Degree programs has  more credits than the diploma programs, say for instance – Master's degree  program in UK has 180 credits, but any Level 7 PG Diploma entitles only 120 credits,  thus to get a "degree" certificate, a student has to "top-up" 60 more credits to get  awarded Master's Degree certificate from the respective university where they  enrolled for top-up.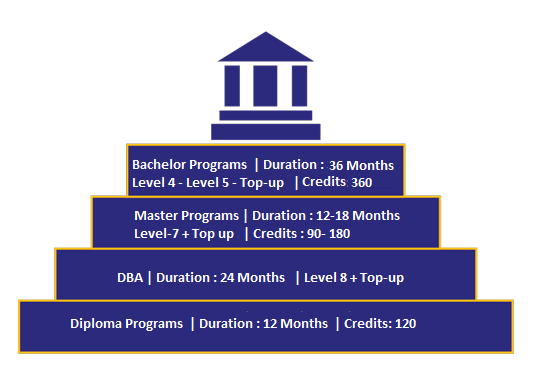 A student can take up any Level 7 diploma program from any Ofqual, UK awarding  body, and then a Master – TopUp can be done to gain 60 more credits and a  Master's Degree certificate instead of a PG Diploma. 
Similarly, a Bachelor's degree has 360 credits, so Level 4 will encompass 120 credits  so will Level 5, thus to get Bachelor's degree certificate, a student has to "top – up"  120 more credits for Level 6 and thus with completion of 360 credits, s/he can be  awarded a Bachelor's degree certificate. 
Pathway programs and Top-Up can be correlated in the sense that, let's say a  student chooses to study Level 4 and 5 with C3S Business School, Barcelona under  their OTHM, UK curriculum program, and for the final year they choose to study at 
University of Sunderland, UK, so in a way it is a Pathway opportunity for the student  and the name of the final year program title that the student will study at University  of Sunderland, UK will be called Bachelor's Top-Up. 
BA (Hons) Business Management and Entrepreneurship (top-up), University  of Sunderland, UK. 
Bachelor of Science in Business Administration (top-up), Concordia  University, Chicago 
BA (Hons) Global Business (top-up), Coventry University 
The higher education lingo seems to be comprehensively explained with a hope  that it will reduce the level of confusion that surrounded these terms. Pathway  Programs and Top-Up are wonderful opportunities to study abroad in fascinating  countries like the UK and the USA, without burning a hole in your pockets by  studying initial years at C3S Business School, Barcelona, Spain. The Mediterranean  climate and splendid scenic beauty, mesmerizing beaches, Gaudi architecture, the  culture, traditions, food, all this can be experienced while studying and staying in Barcelona.