You're going to move to a new city, or probably a country. As much as it is cool and exciting, the anxiety of uncertainty still hovers. But if you got a shield called #C3Sian then it will protect you from any uncertainty that arises. 
Here's an exhaustive list of exclusive tips for all our C3Sians on board for the coming intake. 
1. Set Up the Mobile Phone
If you hail from one of the Asian countries then your handset does not need any unlocking – you can simply buy a new local SIM card from Barcelona and start using it right away. 
But, let's say you want to use the same number, then you must enable international roaming with your current sim card operator. You will need to check for specific operator charges and can use the same card without any hassles by enabling international roaming. 
You can buy a local SIM card either from the airport shops or from nearby shops to our campus. 
Sim Card can be availed FREE of cost if you install the Studentify application from the App store or Play store before landing in Barcelona. 
Else, normally shops will charge 5 Euros for the sim card and tariff for calling and internet starting from 7 Euros to 25 Euros per month plan needs to be activated as per the usage of internet and international calling.
SIM card shops near our campus: 
Vodafone Store : Centro Comercial El Corte Inglés, Avinguda Diagonal, 617, 08028 Barcelona (1 km far from the campus, 7 to 9 mins walk) 
Barcelona Locutorio: Gran Via de les Corts Catalanes, 521, 08015 Barcelona (5 mins walk 400 Meters) 
Global Express Money Transfer & Locutorio: esq villarroel, C/ de València, 121, 08011 Barcelona (900 Meters)
2. Transportation in Barcelona
TMB Buses are available throughout the city for convenient transportation, and there are also some other bus services available, such as https://www.alsa.com/ and https://www.omio.com, which have cheaper options available if you book your tickets two to three weeks in advance. 
TMB Metro Cards are used in the metro system. 11.35 euros for ten excursions, 40 euros for a month pass, and 80 euros for a three-month pass with unlimited trips in the city for students under the age of 25. 
Taxi/Cab – booking a cab could be good option, specifically if you have a lot of luggage. For the taxi and cab, you can book online. 
Taxi Booking Applications
FREE NOW 
CABIFY 
Fare breakdown 
By day 
Base fee:

€ 2.25 

Kilometer price:

€ 1.18 

Waiting time per hour:

€ 22.60 
By night 
Monday to Friday from 8:00pm until 8:00am. Saturdays, Sundays, and bank holidays all day. 
Base fee:

€ 2.25 

Kilometer price:

€ 1.41 

Waiting time per hour:

€ 22.60 
Surcharges 
Connections from or to the airport:

€4.30 

Minimum fare of service from the airport (including all additional charges):

€20.00 

Order by phone:

€7.00 
Source- https://www.taxi-calculator.com/taxi-rate-barcelona/247 
From Barcelona Airport to C3S School Campus is 20 mins distance by Taxi. Taxi Will charge 24- 29 Euros as per the Cabify and Freenow will charge 28 – 36 Euros.
3. Getting to (and around) Barcelona
By Air 
These travelling websites provide amazing discounts and offers for moving around Barcelona – pan Europe. 
By Train 
These websites will help you to book tickets online for any location surrounding Barcelona. 
EuRail : Renfe (You can hop on to the train from the nearest station -Sants Estacion, which is 1 KM far from the campus and 12 min by walk and 4 min by taxi) 
By car
Rental cars are also available, in case you wish to drive. You can inquire about it with our Student Support staff at the campus and they might give you references. 
With rental cars, the legit query about driver's licence and permit to drive in Spain is expected. 
As per the information found, it's possible to change the licenses internally
if you're an EU student but if for Non-EU students, they need an international driving permit from their home country or they need an international license to drive in Spain. 
The countries with an agreement with Spain are: 
Asia:

Philippines, South Korea, Japan 

Africa:

Algeria, Morocco 

Europe:

Switzerland, Croatia, Andorra, Serbia 

South America:

Venezuela, Brazil, Argentina, Bolivia, Chile, Colombia, El Salvador, Ecuador, Perú, Dominican Republic, Paraguay, Uruguay, Guatemala. 
To sum up, the non-EU/EEA license holders, and the countries that were not listed above have to take a Spanish test in order to continue driving within Spain. 
Source: https://practicatest.com/en/driving-licenses-in-spain-for-foreigners
5. Register with a Doctor
Students need to complete their Empadron first and then they can apply for a medical card. They can get this card at home and then they can visit the nearby cat salute clinic with this card and get free treatment. 
C3S Student Support team provides all the assistance for getting the medical card, they will provide you with all the necessary information at every step of this procedure so that you can get this done smoothly. 
6. Looking for Accommodation
Barcelona is a big and cosmopolitan city, such a place offers a great number of different kinds of accommodations, from hostels, to students' residences, shared flats and so on. The kind of accommodation will depend on your budget and preferences. 
C3S Business School has tie-ups with a lot of housing agencies and organizations to assist the students and help them find a home away from their home. Our Student Support team coordinates with different organizations and tries to provide utmost assistance to all the students for an affordable yet comfortable living in the city of Barcelona. 
Check out our Accommodation Guide page on our website for more information.
This is essential and inevitable for your stay in Barcelona. We have a few banks near our campus, you can visit them and decide which one you want to opt for.
La Caixa Bank (400 Meters from School near Entenca Metro Station)

This bank has an

English speaking manager

which can be a relief for those who are alien to the Spanish language. 

BBVA Bank (400 Meters from our campus near Entenca Metro Station)
Sabadell Bank (150 Meters from our campus)
8. Explore Barcelona's Main Attractions:
Here's a chalked out list of best and the most instagrammable spots of Barcelona along with their distance from our school campus. 
Basílica de la Sagrada Família 3.2 Km 
What?
The life's work of Antoni Gaudi, Catalonia's most famous architect. It is a must-see attraction in Barcelona. 
Where?
C/ de Mallorca, 401, 08013 Barcelona 
La Rambla (2.7 KM) 
What?
The most famous street in Barcelona, this 1.2-kilometer boulevard begins in Plaça de Catalunya and ends at the Christopher Columbus statue near the port. A wonderful spot to eat, shop for souvenirs, and admire the architecture.
Where?
La Rambla, Barcelona 
Picasso Museum 3.9 KM 
What?
Nearly 4,000 pieces by Pablo Picasso are housed in Barcelona's own collection. This is a fantastic opportunity to learn more about the legendary artist. 
Where?
Carrer de Montcada, 15-23, 08003 Barcelona 
Montjuic 3.1 
What? 
This little bit of green paradise, located right on the beach in Barcelona, allows you to explore the historic castle at the top of the hill, which offers beautiful views of the coastline. 
Where?
Doctor Font i Quer, s/n, Sants-Montjuïc, Barcelona, 08038 
Tibidabo 6.4 KM 
What?
A gorgeous church and theme park located in the hills surrounding Barcelona, providing a unique opportunity to observe religious architecture in Barcelona while still having fun in a theme park. 
Where?
Plaça del Tibidabo, 3, 4, 08035 Barcelona 
Parc Guell 3.5 
What? 
This is a fantastic day out with a beautiful perspective of the city and an exhilarating rollercoaster journey to the summit. 
Where? 
08024 Barcelona 
La Boquería Market 2.9 KM 
What?
Everything from fresh fruit to exotic spices can be found in Barcelona's most well-known municipal market, which is located in the centre of Las Ramblas. 
Where?
La Rambla, 91, 08001 Barcelona 
Gothic Quarter 3.4 KM 
What?
Along with the Born, Raval, and Barceloneta, the Barri Gtic (Gothic Quarter) is part of Barcelona's Old City. It's known for its historic architecture, charming streets, and classic cafés and pubs. 
Where?
Barrío Gotíc, Barcelona
Liceu Opera House 3.1 KM 
What?
The Liceu is more than simply an opera venue; it also stages ballet and music acts. Keep a lookout for ticket deals at really low costs. 
Where?
La Rambla, 51-59, 08002 Barcelona
The Bunkers 3.2 Km 
What?
The location, known as 'the bunkers,' is significant in Barcelona's history as well as Catalonia's resistance to Francisco Franco's soldiers throughout the conflict. After you've taken a look around and taken in the history, take some time to sit and enjoy one of Barcelona's best vistas. 
Where?
Carrer de Marià Labèrnia, s/n, 08032 Barcelona
There are a lot of grocery stores and supermarkets in Barcelona. If you're looking for something nearby to our campus then there's Aldi which is about 350 meters away, another one is Carrefour Market located 550 meters away from the school campus. 
Día Supermercat is just a few steps away from campus – hardly 150 meters. And if you're too lazy to walk then go hopping to Condis Supermercats – 88 meters far from the campus.
10. Learn the Spanish language
The thrill of learning a new language never wears off, especially when you learn the local spoken language and network with the locals, make friends, can watch shows on television, finally can sing and understand the meaning of "Taki-Taki", or "Senorita" or even "Despacito" (I know you can't just read it – you are going to sing the word, as that's the only word you know from the whole song :D) 
What if you can learn the basics of the Spanish language for FREE? Sounds fun, well it is fun for all the enrolled students as C3S offers Spanish classes to all the students to learn the basics of the language so that they can communicate around. 
11. Check Out the restaurants nearby to the campus
Restaurante Matatabi (2 min Walk) 

Kenko (2 min Walk) 

TITINO'S ( 2 min walk) 

Cafeteria – Sun coffee & Bakery right next to our campus is a favourite food and coffee joint for our current students.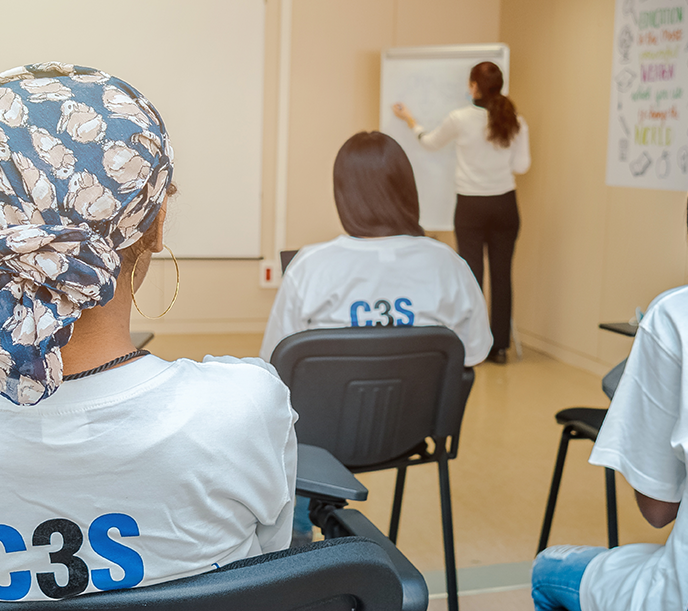 As a Business School student, you should be a street smart person, with the right balance of theoretical learning and enriching your soft skills and your managerial skill set as well. 
You can join the C3S Student Council, it is a group for the students and by the students. There are three clubs under this umbrella – Digital Media, Curricular, and Extracurricular. You can decide as per your interest. This experience will help you learn skills on the go parallel to your regular studies. 
It's a wonderful opportunity to grab and groom to the best of your potential and be corporate ready with the right skill set.
This is a crucial and the most important procedure to get done with in order to stay in Barcelona. It is commonly referred to as DNI. This procedure can go wrong if you are not careful with form filling or appointment booking, etc. 
But C3Sians have lucked out, as the Student Support Team at the campus provides end-to-end assistance for it – right from assistance to form filling to appointment booking to document checklist to everything and anything relating to it. 
You just need to approach the team and ask for their assistance, they will be happy to help.
Documents Required for DNI 
PASSPORT 

PASSPORT SIZE PHOTO 

BLACK PEN 

EX 17 FORM 

079- 12 TAX FORM (TASA FORM) 

TAX PAID RECEIPT 

EMPADRONAMIENTO 

COPY OF PASSPORT 

ADMISSION LETTER FROM SCHOOL 
Note: EMPADRON copy is valid for 3 months ONLY
14. Get your Social Security Number
The SSN is required for students so that they can join any organization during their internships and post their studies as well. A lot of companies proactively help their employees get the SSN, but some hire you only if you have an SSN. 
C3S Student Support team can help fix this one for you as well, you need to coordinate with the team and provide them with the digital certificate and they can get you an appointment for the same and the subsequent procedure therein. 
I hope this information was helpful to all our students who are all prepped up to join us in Barcelona. And for those who are still on the fence, baffled and stuffed with anxiety of going to a new place, all alone; rest assured C3S Business School has your back if you're a #C3Sian. 
Explore our website for more information or take a free counselling session Today with experts in our Admission team.