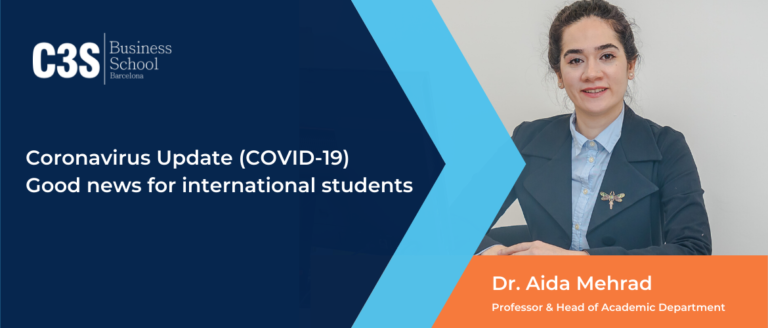 Since July 1st, C3S Business School opened its campus for staff memebers and has been preparing to resume studies and lectures for the current student cohort. Safety measures have been taken to maintain 1.5 m distance and sanitization of the school premises. It is good to know that EU countries are reviving again from the COVID-19 pandemic and have made substantial progress in reducing the number of cases. 
They are opening up borders not only for member countries but also for many countries outside of Europe as well.  These countries include Algeria, Australia, Canada, Georgia, Japan, Montenegro, Morocco, New Zealand, Rwanda, Serbia, South Korea, Thailand, Tunisia, Uruguay and China (although China is subject to confirmation of reciprocity).
According to the EU commission "this new phase of reopening occurs at a time when in most parts of the EU, fewer than 100 people are infected with COVID-19 per 100,000 inhabitants –quite an accomplishment given the prevalence of the virus on the continent just weeks ago. 
However, as good as this news is for tourists and other travellers, International students are also now allowed to travel to Spain and other EU member countries with a student visa. 
The EC is recommending that even if travel is not yet generally permitted from a specific country outside the EU that exemptions be allowed for international students.
Optimistically, we expect September 2020 will be a good time to resume classes and lectures. So, if you are planning your study for Fall 2020, we recommend being prepared to travel and make sure to check the updates on our website.
You can contact us on info@csss.es
For more information read this : https://ec.europa.eu/info/sites/info/files/communication-assessment-temporary-restriction-non-essential-travel_en.pdf
source : Market intelligence for international student recruitment from ICEF, June 2020.