If you want to have a better life, you need to focus on getting a good education. Only education can take you to places. If you a degree or graduation in hand, you should plan on acquiring diploma programs in Barcelona that can add value to your profile. You need to pick or choose a college that is well-reputed and is accredited.
Of course, there are so many countries in the world wherein you can study and get a degree. But Spain is the best nation where you can go and get the necessary education. Barcelona is a beautiful beach city, and it will steal away your heart for sure. Many colleges and universities have the best Diploma Programs in Barcelona.
People can have better prospects when they study in this beautiful country. There are so many available courses. Here are some of them that you should consider and plan on applying.
Now, this is one course that is for senior managers and managing directors. Since they are the ones who will translate organizational strategy into performance—this course will, for sure, boost their morale and enhance their skills.
This course is specifically for people who have a basic knowledge of management. It will only build upon what people already know. People who desire to grow up in an organization or start a business can benefit a lot when they do this course. It will help you to become an effective leader.
Many colleges are offering this and other Corporate Programs in Barcelona for an affordable price.
Students who do this particular course in Barcelona will get to learn all the facets and operations of a company. This course focuses more on helping people develop skills, understanding, and abilities to become a better leader and manager for an organization.
Students will learn techniques and methods to apply evaluative and analytical techniques in businesses both in the private and public sectors. People who want to have a broader perspective of things should plan on doing this course. Those who complete this course will eventually work in managerial positions earning a lot of money.
Hotel and Tourism industry is becoming big, and working in these streams is essential for people who want to have the right career path. The overall contribution of these industries in 2016 is around 7.6 trillion dollars. Managing hotels and tourism are not as easy as it looks like to commoners.
People who would like to broaden their knowledge and understanding in Tourism and hospitality industry should plan on doing this course. Depending on the college that you are planning to apply, the course duration might be anywhere between nine to 12 months.
Some of the universities and colleges also have tie-ups with various companies so that the students can do an internship and learn the work in real-time. Hence, this is one of the aspects that you need to check when picking a college.
Diploma Program Level 7 in Human Resource Management
The human resources department is present in every single company that you can find in the world today. People who do a diploma in human resources management will find a job with ease as a result.
Graduates who do this course will enhance their skills and develop an understanding of how they can manage human resources in an organization. People who do this course will know how to align strategic decision-making with human resources to ensure that a company has an advantage over others. Managers who want to grow in an organization should plan on doing these things.
Understand the Requirements Before You Apply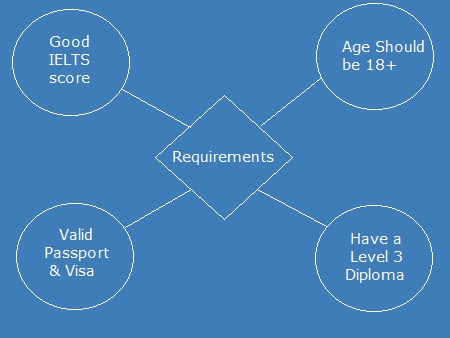 Since many colleges and universities are offering these and other Courses in Barcelona, you should pick one of these colleges to study abroad. One has to qualify to come and study in Barcelona. Here are some of the requirements that you need to meet to qualify to study in Spain:
Have

Good IELTS score

– Meet the university or college's English or Spanish scores in all the segments of IELTS if the person applying is from a non-English speaking country

A student should be above 18 years to apply for this course

International students need to have a valid passport and visa to travel to Spain

The students should complete and have a level 3 Diploma or award

Some institutions may have additional requirements – hence you need to reach out them to understand the requirements