BA (Hons) In Tourism And Hospitality Management
The BA (Hons) in Tourism and Hospitality Program will provide you with a thorough grasp of the tourism business, allowing you to learn the fundamentals that will support you well as you advance in your career and in the industry. Within this business framework, you will study the following:
At local, national, and global levels, the ideas and aspects of tourism and hospitality as a field of academic and applied research in connection to business management and broader social science.

The administration and operation of resources

Within businesses, people management and development
Within businesses, people management and development

Finance usage and management, as well as accounting data usage

Information systems creation, administration, and utilisation

Within the framework of the external environment, the establishment of suitable policies and strategies

Sustainability, ethics, and the use of technology are all topics that affect the global environment.
In hotel and tourism management, prospective professionals can pursue a range of career paths that lead to leadership positions in the sector. These positions are in charge of developing tourist plans, assisting with marketing campaigns, and ensuring client satisfaction. You can identify one or more work roles that correspond with your interests by analyzing prospective career tracts and detailed job information for each.
The sky's the limit in the fast-growing and continuously evolving hospitality business, from an island resort hotel manager to a marketing director for a luxury retail chain.
"Other roles such as Sales Manager in a Hotel Chain, Quality Manager, General Manager, Public Relations manager,etc. In the sectors of any segment of the industry, such as lodging, hotels, restaurants, casino, cruise line operations, resorts and spas, event management, or airline catering.
| | |
| --- | --- |
| Academic Writing and Research Skills | 20 |
| Business Environment for Tourism and Hospitality | 20 |
| Services Marketing in Tourism and Hospitality | 20 |
| Sustainability in Tourism and Hospitality | 20 |
| Events Management | 20 |
| The Development of the Tourism and Hospitality Industry | 20 |
| | |
| --- | --- |
| Contemporary Issues in Tourism and Hospitality | 20 |
| Marketing Management | 20 |
| Customer Relations Management | 20 |
| Operations Management | 20 |
| Finance Management | 20 |
| Human Resource Management | 20 |
| | |
| --- | --- |
| International Business | 20 |
| Business Strategy | 20 |
| Leadership and Management Development | 20 |
| Business Communications | 20 |
| New Venture Management and Development | 20 |
| Business and Management Research | 20 |
Do you have more questions?
CALLE LONDRES, 6, PORTA 9,
BARCELONA – 08029
Lectures in the Classroom

Seminars and Workshops

Learning through Doing

Research and field trips

For debate and discussion, students will need to contribute through independent learning, extensive background learning, and inputs during seminars and tutorials.
Application form
High School diploma certificate and other educational credential certificates
Official transcripts
Copy of passport
CV
Motivation Letter
IELTS 6.0 (with not minimum 5.5 in each) / TOEFL 75 official certificate or C3S Credibility Interview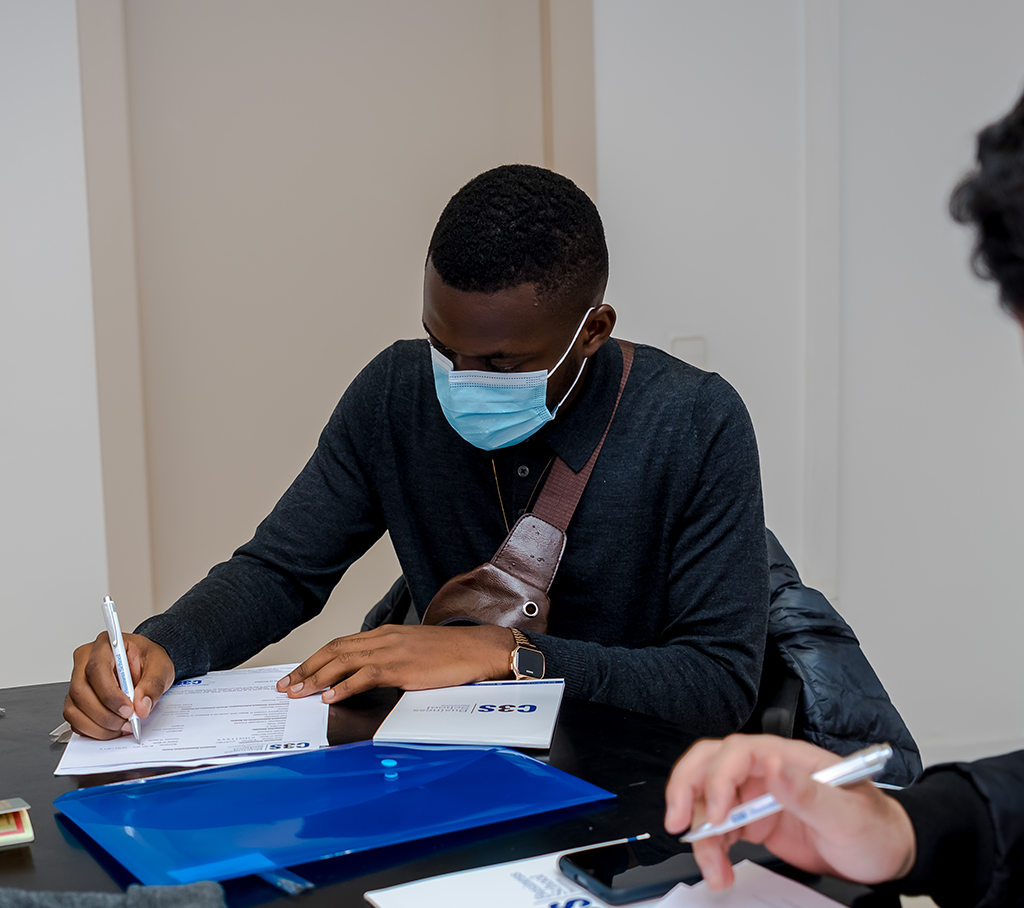 *Payment instalment plans are available. Please contact C3S's Administration Department for further details
Are you ready to take the next step toward your future career?