"Our objective is to guide and accompany the student to reach new professional goals, as well as to achieve a greater labor insertion and professional development."
"C3S Business School Career Service is constantly working to develop useful tools that are available to students and alumni."
Our Career Service is a Profesional Student Support Area
At C3S Business School we work with companies, institutions and organizations from all sectors, both national and international. Through our partnership with Internship Provider companies , the enrolled Students and alumni will have full access to their full catalogue of paid/unpaid internships.
TWO TYPES OF INTERNSHIP PROGRAMS AVAILABLE:
Long term BASIC PROGRAM: 5 months+ internship.
Short term ALL-INCLUSIVE PROGRAM: 2 to 4 months internship.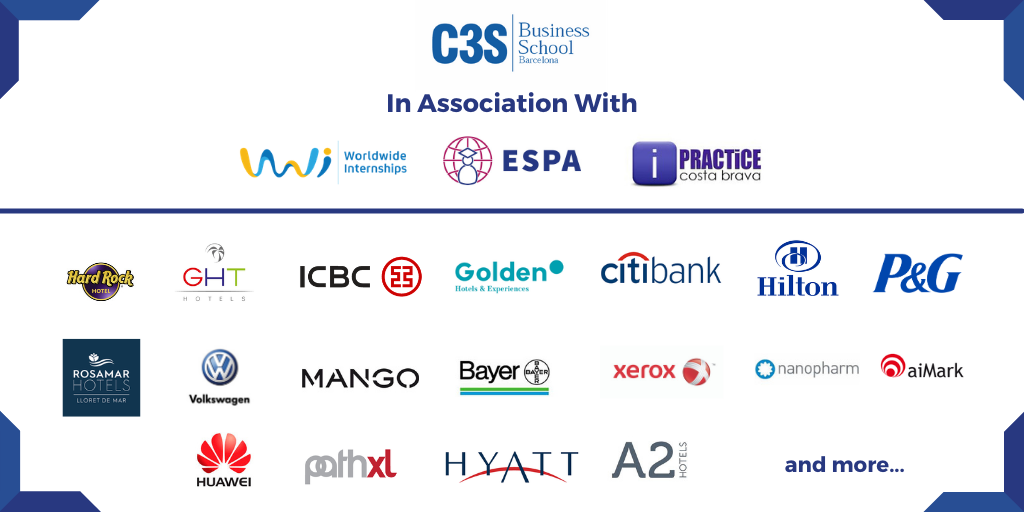 C3S Business School additionally puts at the student disposal information about job fairs, company presentations, seminars, workshops and other information of interest for your professional development.
C3S Business School fully backs its students to make sure they will get most out of their internship. For non-European students, the Visa process will be taken care of by both C3S Business School, World-Wide Internships, European Student Placement Agency (ESPA) and Ipractice Costabrava to ensure a successful internship process.
How Fluent are you in Spanish?
Most of the internships available through us require people to know Spanish.
If the student is fluent in Spanish
immediate integration to internship process is a feasible option.
Students who don't know Spanish
C3S Business School offers Spanish Language programs for every level of entry to get students up to speed on the language.
We will help you find a suitable internship in your desired field at a world-class destination with our collaborator Worldwide Internship.
Student can choose from a wide area of paid & unpaid internship positions available in startups, multinationals and 5-star hotels which prepare them for the real-time work as well as it will add value to their CV and improve their language skills.